Jute woven tumplines by Keith Feeman with single 8' long braided ties. $65.00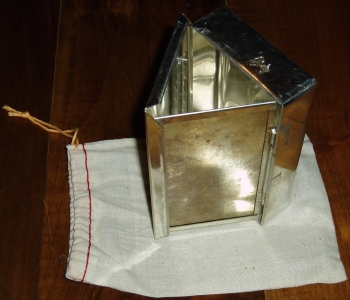 This folding lantern is perfect for the gentleman or traveller. It is made here in the USA of tin and measures 5-1/4" tall, 3-1/4" wide and 1-1/4" deep (when folded), It has a swing out candle holder and a mica pane to block the wind. In 1768 Baynton, Wharnton and Morgan lists a item "Folding Horn Pocket Lanthorn" availble for 7 Shillings, 6 pence. Ours are only $35.00 each.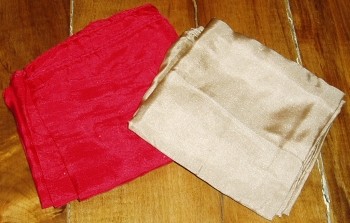 We have 100% Silk Scarves that measure 36" by 36" and work great for neckercheifs, modesty cloths, head rags, turbans and more (Red and Gold available) $12.00 each.